History
To make great steps we must not only dream but also act!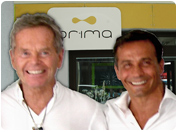 SMT was founded in 2005 by an entrepreneurial idea of ​​Mr. Andrea Della Balda, supported by an entrepreneur of the highest level: Mr. Simon Murray. SMT is the first Mobile Network Operator based on the Republic of San Marino with a capillary 2G and 3G coverage.
After about 18 months of startup, under the PRIMA brand, SMT lunched in the local market Internet services and Mobile full services, postpaid and prepaid solutions. On 2008, SMT lunched the first WI-FI network in country, able to provide broadband and IP Telephony. Due to the sensitivity of Institutions and Associations, with the support of the Secretary of State for Industry, Commerce and Telecommunications and the Tourism, together with associations like OSLA, USOT and USC, in July 2008, SMT lunched the FREE WI-FI out-door network covering the historic center and some areas of great affluence, giving relevant support to tourism and commerce.
Thanks to a young and dynamic team, and international technology partners, SMT ensures the proper maintenance and development of the telecommunications business. Since 2013 the company is committed to carrying out projects of high technology in the Value Added Services development on the Mobile Industry and thanks to its cloud technology, SMT started to commercialize its services worldwide proposing advanced solutions at the best price.