Easy mWALLET
It's an innovative service that allows you to adopt modern systems of mobile payment.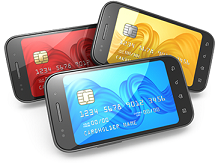 Easy mWallet Platform contains all the primary features required for any mobile wallet solution, such as CashIn, CashOut, Fund Transfer, BillPay, mTopup, and etc. Easy mWallet provides this solution to service providers like telcos, banks, credit card companies or any financial institutions to offer its consumers these services with better user experience, security and speed.
Apart from convenience, Easy mWallet platform provides multiple functionalities systems and applications for all the different categories of customers including the banked and the unbanked, providing additional growth opportunity for operators, financial institutions as well as service providers.
These products are capable of adapting to new payment needs to provide effective mWallet solutions to both service providers and its customers.

Easy mWALLET allows unleash the power of mobile connectivity and then, from making transactions with their mobile phones free of charge.

Easy mWALLET is dedicated to:

- Banks and financial institutions;
- Network operators and Virtual;
- Associations;
- Public Administration;


Fund Transfer

Providing both mobile operators and financial institutions with a new transaction-based revenue opportunity by enabling instant mWallet fund transfer worldwide

Merchant Payments

Empowering merchants to accept multiple forms of payments via mobile wallet and help build profits

Bill Pay
Enabling telcos, financial institutions or utility service providers to offer trusted and convenient bill payment services to their users

Bank Transfers

Enabling financial institutions and telcos to offers their customers capability to integrate their mWallet with their bank accounts for managing funds.

Mobile Topup
A full-featured mTopUp system which allows users to do self topup or through agents.

NFC Payments

Provides security, flexibility and movability through contactless mobile wallet payments

Key Features:

• Mobile Financial Services include: CashIn, CashOut, Money Transfer, Self Bill Payment, Agent Bill Payment, Merchant Payments, NFC Payments, Self mTop, Agent Topup, Account Balance Enquiry, etc..
• Multi Currency: System supports more than 150 currencies simultanously and one user can maintain his wallet in more than one currencies.
• Multi Language: Application supports multi-language feature on all the interfaces.
• Multiple Wallets: Application supports multiple wallets for one user.
• Unique Wallet Id: No dependency on mobile number. Engage even non-subscriber base to use mWallet services.
• KYC: Fully customizable "Know your customer" (KYC) functionality. You can add and remove KYC fields as per your requirement.
• Pricing and commission: Slab-wise, flat and % of transaction amount and/or fixed amount pricing/commission model available.
• Bank Integration: Easy integration with one or more banks. Seamless transfer of money from mWallet to Bank account and vice versa.
• Reconciliation: Reconciliation of the transactions and the whole system on click
• Awesome user experience: User friendly GUI for agents, subscribers and all other stakeholders.
• Reporting: History reports for Agents and subscribers available via internet portal.
• Subscriber life-cycle management: Operator can manage subscriber life-cycle as per their business rule.
Also supports all primary mobile money application features like distribution hierarchy (M x N), stock management, customer care management, fraud management, agent network management and custom reporting.