Easy ROAMING
A non intrusive solutions – Seamlessly integrate with existing GSM and CDMA networks with Zero adaptation effort.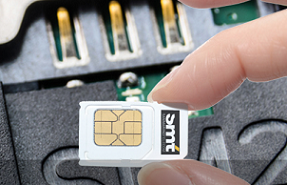 EASY Roaming main features
100% normal experience to the end subscriber with natural Send & End functionality.

Eliminates the need to change SIM cards or utilize Call forwarding in order to enjoy service in visiting destinations.

OTA support for network expansions

A WIN WIN business model with architecture that operates in a business friendly manner with partner MNO's using a similar to traditional Roaming system but with value added functionality.

Enables new billable services and products to partner MNO portfolios – this allows the MNO partners to provide new services such as multiple local numbers in foreign countries, service to ex-pats, and multi patriot subscribers – i.e. subscribers who divide their life between multiple geographical locations on a permanent bases

Transparent integration asywith MNO partners

Multi technology integration – the system enables the provisioning of  roaming service on GSM networks, VOIP platforms on top of ADSL or WIFI with transparent integration of services like  WIMAX – this will enable the end user to use the service on multiple types of handsets or technology.

Full featured functionality including Voice, SMS and Data in 2.5g, 3g and 3.5g and USSD technology 

Value proposition to partner MNO partners

The Easy Roaming solution represents a WIN WIN approach to the MNO partners. It is specifically beneficial to MNO's that are not affiliated with other global alliances and are at a competitive disadvantage in their home markets, since most roaming (in and out) users choose competitors not only for roaming services but for all their mobile services.

Benefits for MNO

VLN (visitor local number) functionality – we offer dynamic and static provisioning of visitor local number capability with a group of value added products

Seamless integration,

Low cost roaming to strategic destinations

Guaranteed inflow traffic of SmartRoaming subscribers into partner's MNO home market

Reduce roaming direct cost,

Reduce MNO partner's roaming overhead

New value added services provide MNO partners additional revenue from a set of new products that are currently not available to them. These include the provisioning of multiple local numbers to international destinations at or near local rates, where the revenue will include

RC charges on the VLN

IDD charges for all MT calls to the VLN

 
Value proposition to the end subscriber

- The convenience of the SR SIM card – With SR's "All-in-1 SIM card," the subscriber owns permanent visitor local numbers in the U.S., China, UK HK and India … that remain active even while traveling abroad. No longer will the subscriber experience the frustration of missed calls, reduced call quality associated with traditional roaming, the hassle of switching SIM cards, or the shock of outrageous international calling surcharges.

- With Smart Roaming the subscriber never misses a call – Smart Roaming provides an automatic and transparent call routing feature which allows the subscriber to answer all incoming calls from the subscriber's home country or foreign countries at the same time. In addition, SR's visitor local mobile phone numbers remain "active" 24 hours a day, 7 days a week, allowing the subscriber to be reached by friends, family and business associates no matter where they travel.

- Save up to 70% on International Roaming Rates – By combining the highest call clarity and most reliable connectivity with big savings of up to 70% off current international roaming rate. Smart Roaming gives its customers the very best in value and service.

- Standard local numbers in partners locations! – SR's service comes standard with multi international phone numbers aligned with leading partner telecommunications providers in each of these areas. A local number will automatically appear on the subscriber's handset screen when the subscriber is located in one of these territories, allowing the subscriber to make calls within the territory while only paying local rates.

- Smart Roaming's unique "Send & End dialing process" connects the subscriber to the dialed party when making international calls based on SR's preferred LCR. This results in huge savings for our SR subscriber when compared with standard international dialing rates.